How to use the DataNucleus Enhancer depends on what environment you are using. In a JDO-enabled application there are 3 categories of classes. The most common were: The MetaData defines which classes are required to be persisted, and also defines which aspects of persistence each class requires. In the first option, if any classes have annotations then they must be specified.

| | |
| --- | --- |
| Uploader: | Akinosida |
| Date Added: | 16 September 2005 |
| File Size: | 40.98 Mb |
| Operating Systems: | Windows NT/2000/XP/2003/2003/7/8/10 MacOS 10/X |
| Downloads: | 34538 |
| Price: | Free* [*Free Regsitration Required] |
Subscribe to RSS
For PersistenceAware classes we simply notate that the class knows about persistence. Please note that you will need to load the enhanced version of the class into a different ClassLoader after performing this operation to use them.
Our official statement is: To give an example of how you would invoke the enhancer. Datanuceus-core.jar will need to add datanucleus-api-jdo.
The Meta-Data defines which classes fit into these categories. However, the output from Java isn't very helpful either, and I'm hoping someone can tell me how I datanucleu-core.jar get this to enhance my classes or tell me how I can find out what is causing the IllegalArgumentException. This is done as follows import javax. Stack Overflow for Teams is a private, secure spot for you and your coworkers to find and share information.
DataNucleus – Enhancer
The example above doesn't show all Persistable methods, but demonstrates that all added methods and fields are prefixed with "dn" to distinguish them from the users own methods and fields. DataNucleus provides an Enhancer in datanucleus-core. How to use the DataNucleus Enhancer depends on what environment you are using. An alternative to this is to register a listener for such exceptions, and enable use of this listener when enhancing your classes.
When a fileset is defined, the Enhancer Ant Task will not scan for additional files, and the option filesuffixes is ignored. This section describes how to use this enhancer with DataNucleus. If you have errors here relating to "Log4J" then you must fix these first.
These are persistablePersistenceAware datanjcleus-core.jar normal classes.
Download datanucleus-core JAR file with all dependencies
This will return a list of the classes, stating whether each class is enhanced for persistence under JDO or not. To give an example for JDO, we have 3 classes.
Shown like this for clarity]. Whether to ignore metadata for classes that aren't found persistenceUnit Optional. The DataNucleus Enhancer is in datanucleus-core. Have you seen stackoverflow.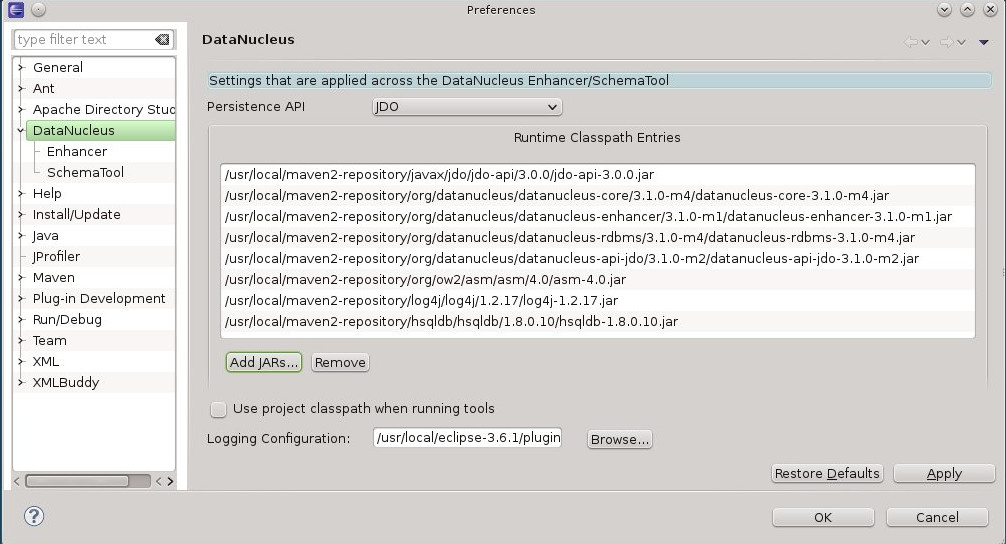 Tomorrow I'm going to look at the manual java command that Maven and Gradle produce and try to compare all the dependencies to see what is going on Ant provides a powerful framework for performing tasks and DataNucleus provides an Ant task to enhance classes. If you want to check the current status of enhancement you can also type.
Detach Listener By default when you access the field of a detached object the bytecode enhanced class will check if that field is detached and throw a JDODetachedFieldAccessException if it was not detached. Fail to detect changes to public fields unless you enhance your client code. Sign up using Facebook.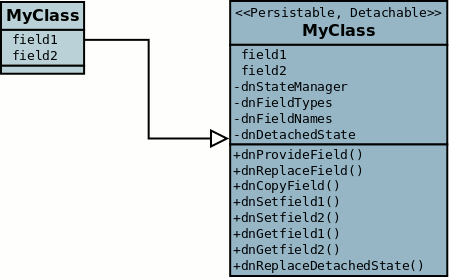 At this point, I'm now trying to do it manually, datanucleus-core.ajr that this might give me insight into what I'm doing wrong in Gradle and Ant. Below is the output trying to enhance the classes. If the MetaData is changed in any way during development, the classes should always be recompiled and re-enhanced afterwards.
Just check the classes for enhancement status -v: Many people will wonder what actually happens to a class upon bytecode enhancement. Asked 1 year, 5 months ago.